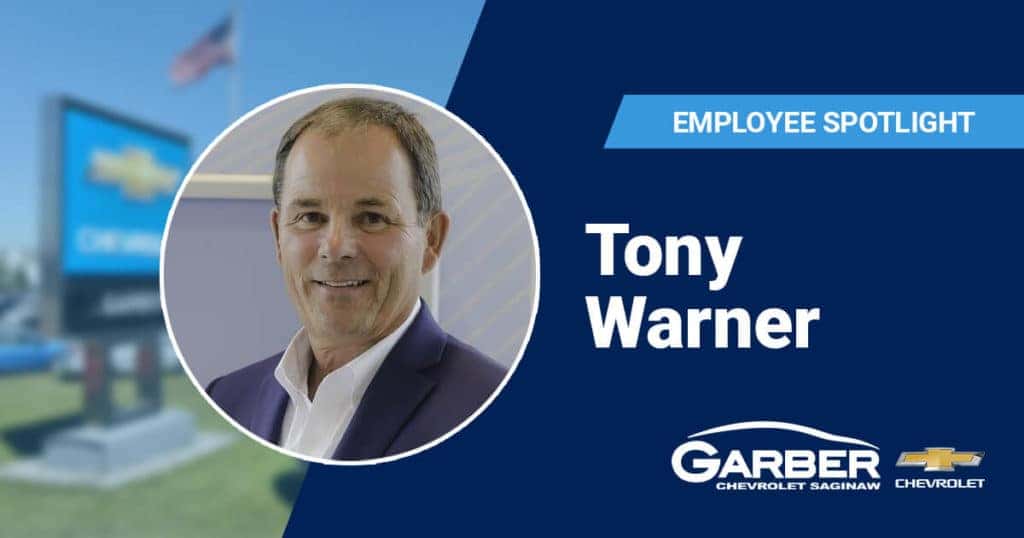 Over four decades. That's how long Tony Warner has been in the car business.
Since 1978, to be exact. Back then, he was a wide-eyed 19-year-old, trying to make it in the car business as the youngest guy in the showroom.
Nowadays, Tony — who has served as General Sales Manager for Garber Chevrolet Saginaw in Michigan since 2017— is entering a new season of his career. He's rounding the final bend towards the finish line of retirement.
"I always said I'd retire from 8800 Gratiot Road," Tony said. "I've been at this same address for 43 years. The hardest thing I'll ever have to do is walk away."
But Tony isn't quite done yet. There's still unfinished business…like telling his story for this Spotlight, for one.
So let's tell it, shall we?
The Beginnings of a Career
When Tony was a teenager, he knew one thing: he did not want to go to college.
"I worked for Nexteer, then General Motors," he said. "Three months later, I said, 'I'm doing 30 years of the same work every day.' It was so repetitive. I wanted more."
While Tony knew he didn't want to go to college, he knew he loved cars since he was a kid. The family of Tony's best friend, Jim Martin, was in the car business. Lowell Martin, Jim Martin's father, owned Martin Chevrolet in Saginaw.
"I was always around the dealership," Tony said. "I loved hanging around the lot with Jim Martin."
So when the time came for Tony to search for something beyond the line at GM, the Martin family made a suggestion. Or rather, an invitation.
"Lowell said to me, 'You're coming to sell cars,'" Tony said. "So I took a leave of absence from GM and I never looked back."
Tony sold cars for six years. 
To become wise and seasoned, you have to be new and uncertain. This was Tony's New and Uncertain Era.It was also the time where Tony carved out his career path.
"I was the youngest car salesman in 1978 when I started there and it made me want to dig in more," he said. "Some of the guys thought I wasn't mature enough because I was only 19. I thought, 'I'm going to chase this and give it a good effort.'"
His effort paid off. So much so, that Lowell Martin gave Tony another career push towards growth and greatness.
"I matured really fast when I became the Used Car Sales Manager at 25 years old," Tony said. "At first, I told Lowell Martin 'No.' Lowell is like, 'Anthony, you're doing it.' I said, 'No, I am not.' But I ended up saying, 'OK, I'll do it.'"
More than 40 years later, Tony is still at the same address. 
One thing did change though…who owned the dealership at 8800 Gratiot Road.
A Smooth Transition
Years had gone by. Tony had worked for two generations of Martins. He was happy in his role and proud of his career.
But one day, he saw the office door of Bill Martin – the owner of Martin Chevrolet following Lowell's tenure – shut. Tony had a gut feeling.
"Bill Martin called me up and said, 'I want you to stop by the house,'" Tony explained. "I said, 'You sold the store.' He said, 'I did.' We talked for over an hour. It was emotional. We thought we'd retire together."
Tony wasn't a stranger to who acquired the dealership.
"I've known Dick Garber my whole career," Tony said. "He knew me and I knew him from being in the industry. No matter where I was, Dick would always say hi and ask about my family."
Now, years later, Tony found himself in Dick Garber's living room discussing the future of Martin Chevrolet…and Tony's career. 
"Dick called me up and said, 'We gotta talk,'" Tony said. "We spent three hours in his living room. He wanted to know all of my concerns. He said, 'We are gonna make this work.' I said to him, 'Dick, if I had ever left Martin, you'd have been the first person I'd work with' because I always respected him. He would have been my first call." 
Now with Martin Chevrolet sold to Dick Garber, Tony felt the keys were in the right man's hands..which is why he decided to stay on board.
"I stayed because of Dick Garber," Tony said. "My heart and soul are cars. I thought, 'If I'm going to stay in cars, I want to stay here with Dick Garber.' Dick said, 'Tony, this will work.' When he told me that, I knew he meant every word. It was about doing what was best not just for Garber, but for Tony, too. Then Dick said, 'I've got a young guy coming in as General Manager and you two will feed off each other.'
Enter Mike Wenglikowski, General Manager at Garber Chevrolet Saginaw.
"Wengo and I met at a restaurant," Tony said. "I was sitting in the parking lot and I'm waiting for this guy they call 'Wengo.' The truck rolled in and I thought, 'There he is.' When I met him, I said, 'I gotta call you Mike; I can't call you Wengo.' He laughed. The rest is history."
The transition from Martin-owned to Garber-owned wasn't jarring. Tony had support every step of the way…and he got more used to the name "Wengo."
"The transition was amazing," Tony said. "Unbelievable. Wengo always said, 'Hey, we're going to get through this.' It's been awesome for the last 4 ½ years. Garber has taken it to the next level. The IT…the digital marketing…the support over at Garber Management Group…it's mind-boggling."
Under Garber's leadership, Tony has been able to learn and grow, too.
"They can teach an old dog like me new tricks," Tony laughed. "When Garber came around, those little changes here and there when it came to processes made all the difference. Accountability became a big thing."
He said the organization is as trustworthy as they come.
"Dick Garber has done everything he said he would do and more," Tony said. "I never went home at night and looked in the mirror regretting my decision to work for Garber."
The Next Right Thing
Tony will retire one day. But that day isn't today.
He's still coming in at 7 a.m. and making coffee. He's still helping his customers. He's still a staple on Gratiot Road.
His commitment level is clear.
"I've seen so many people say, 'I don't know what I was thinking by leaving Garber,'" Tony said. "One thing that makes the difference is I try to work as hard for Garber as they do for me. I work with the mentality of, 'If it's not good for Garber, it's not good for me.'"
While Tony is not completely retired yet, one day he will be…and he said that idea scares him to death.
"I love it here," he said. "Coming in here at 19-years-old, I've been so blessed to build all these relationships from vendors to customers to colleagues. If I need anything, I can pick up the phone. I'm going to miss everyone I work with, and the customers especially. I've sold cars for three, four generations of families. I cherish people's trust and being a part of their lives."
So what will Tony do once he's officially, 100% retired?
"I'll probably still come into the dealership at 7 a.m. and put the coffee on."
Fast Five:

First concert? KISS

First car? 1971 Monte Carlo. Green. I bought it from my grandma for $800.

Favorite meal? Spaghetti and meatballs

Three words to describe your personality? Honest, giving, down to earth

Bucket list item: Slow down, relax, and travel