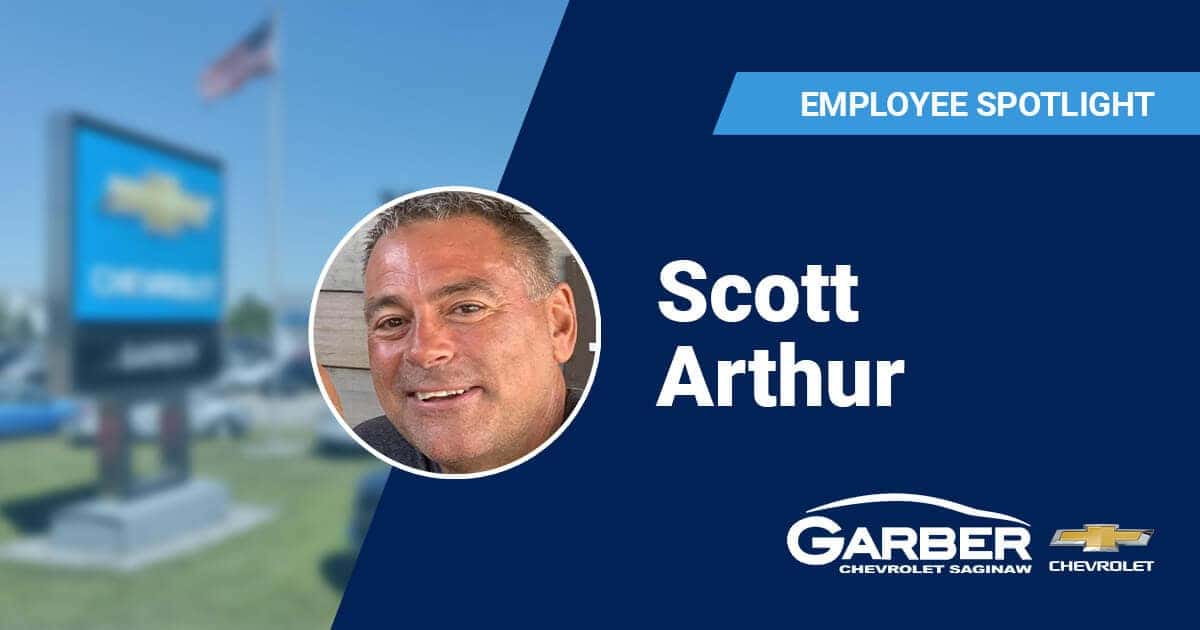 Scott Arthur is more than an automotive service technician.
He's a sponge.
Since his early days as a high schooler learning about cars in automotive class, Scott willingly soaks up knowledge pertaining to his profession.
He is constantly applying what he learns to the vehicles he services as a technician at Garber Chevrolet in Saginaw, Michigan.
"I like learning new systems," he said. "I've been to over 700 training classes over the years. It's important to learn so you can stay up to date. It helps me know how things work so when it doesn't work for a customer, I can figure it out."
Scott has been named a Master Service Technician three times: a title given to an expert in auto repair work who has earned all eight certifications offered through the Automotive Service Engineering areas.
It's his dedication to knowledge and the execution of those lessons he's learned over the years that make him a stellar service tech.
When customers come in with a broken car, Scott is a solutionist…and it's techs like him that provide that excellent customer service experience that Garber prioritizes.
Class is in Session
By the time Scott was a junior in high school, he had been a student in nine different schools due to his father's job.
He landed at Swan Valley High School in Saginaw, Michigan. The school didn't have an automotive class…but one teacher saw Scott's potential — and gave him a way to channel it.
"Since I had mechanical aptitude, they'd send me to St. Charles [a nearby school district] for automotive class," he said. "When I was a senior, a teacher recommended me for the Automotive Service Educational Program (ASEP) and gave my name to a guy at Delta Community College."
Scott enrolled.
Between ages 17 and 19, Scott interned at a local dealership. He spent his days applying what he learned in the ASEP program to the work he did on vehicles.
He graduated with an Associate's Degree in Automotive Service, earning one of the highest GPAs in the program and getting named to the Dean's List.
But for Scott, the learning – and the growth – never stopped.
Getting It Right the First Time
After graduation, Scott became a certified service technician. He got a job working at Martin Chevrolet in Saginaw.
"I was a tech for fuel-injected cars," he said. "Computers in cars were just starting. Old techs were scared of the new stuff, so I got to learn about it and they'd say, 'Give it to the college kid; he's smart.'"
After several years, the time came for Bill Martin to sell the dealership. Bill came to Scott.
"Bill Martin came around and pulled me aside and said he was selling the dealership to Garber," he said. "I trusted Bill because he took care of us and we worked hard to make things successful."
Scott said the transition to Garber was smooth.
"What I like most about Garber is how, when Garber took over, we continued doing all of the good things we did with Martin," he said. "Then we just added Garber's values, and things were great."
Now a member of the Garber team, he said the culture is supportive.
"I feel like an equal here," Scott said. "We're all teammates here. I like the Garber culture. It goes beyond our dealership. There's a whole bigger picture to it. I take pride in hearing our accomplishments and how good we do as an automotive group as a whole."
A "Customer First" Mentality
Every day at work, Scott said customers are the top priority…and it shows.
"We pay attention to the customer instead of looking at it as just an appointment. We are extra diligent at finding out what the problem is instead of, 'Oh, it's a rattle under the car.' We will find out the details."
Garber helps equip the team to have what they need to get the job done right, Scott added.
"At Garber, there's a lot more resources to back us up for obtaining parts if we need equipment," he said. "It's way easier to get in-house problems solved."
Beyond solving the problem, Garber's service tech team also prioritizes honesty.
"We're realistic with customers about how long a job can take," Scott explained. "We are honest about the scope of what could be wrong, which might be bigger or cost more than the customer wants to hear. All of our techs are persistent."
And what if there's an extremely puzzling problem?
"We don't give up until it gets fixed."
Fast Five

First job? Sweeping floors at Wickes Lumber when I was 16

First car? 1978 Firebird. Blue. I wish I still had it.

Three things you can't live without? Friends & family, motorcycling, and music

Something people would be surprised to know about you? I'm a science nerd. I love science and astronomy. I like to learn about all kinds of nature. Everyone thinks that I'm listening to heavy metal while I'm working but actually, I'm listening to science podcasts.

Best piece of advice you've received, and from who? I was a baby mechanic, and my mentor John Schultz said, 'If you don't have the time to fix it right the first time, you sure as hell don't have the time to do it over.' I use that every day with everything.