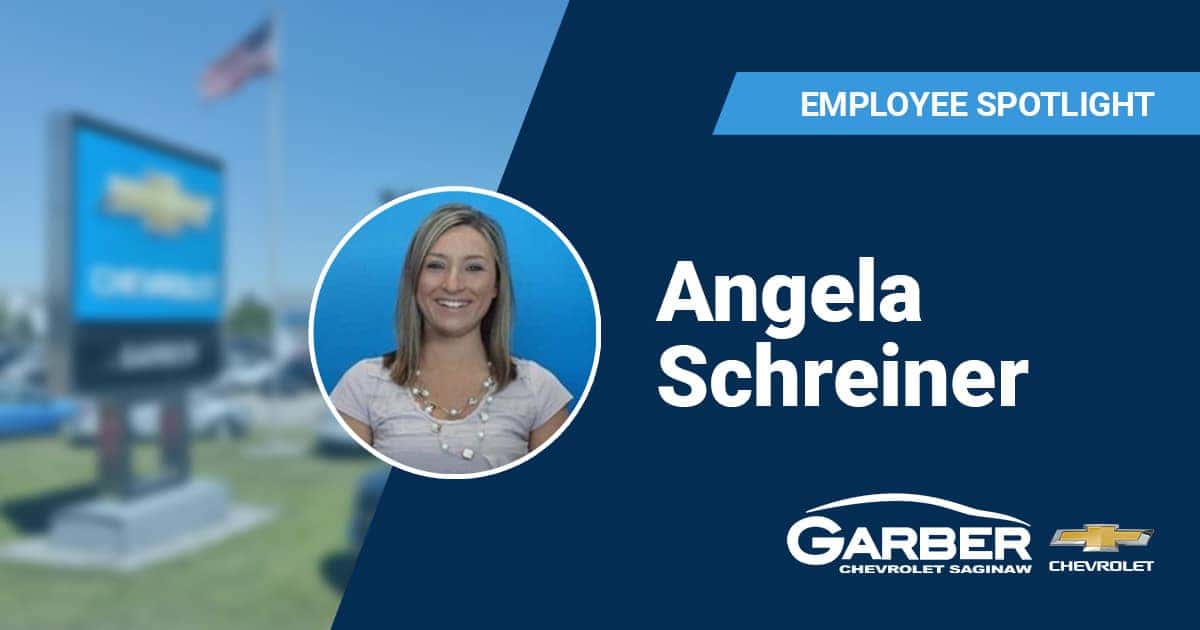 Angela Schreiner is no stranger to the automotive industry. After all, she's worked at the same dealership location for half of her life.  
 "I've been at the dealership on Gratiot Road in Saginaw, Michigan, for 17 years," said Angela, who works as Garber Chevrolet Saginaw's office manager. "I started as a co-op in high school when the dealership was owned by Bill Martin [Martin Chevrolet]. I'd go to school in the morning and come here in the afternoon."
The Saginaw dealership has been a constant backdrop for Angela over the course of her life. She's grown from a teenage co-op to an adult with a career and a family of her own.
For Angela, what began with Martin Chevrolet as a bright future now shines as a fulfilling career with Garber Automotive Group.
Life Stages
When Angela's co-op experience ended after she graduated high school, she continued her work in the automotive world.
"I went to college and got an associate's degree, but I stayed at the dealership working in Payables and Receivables," she said. "When people retired, I stepped in and became a controller for Martin, and then I became the office manager."
Ironically, transitions in Angela's personal life coincided with transitions at the dealership. In 2017, Garber acquired the Saginaw dealership where Angela worked.
"I was pregnant when Bill Martin sold the dealership to Dick Garber," Angela explained. "I was super nervous meeting Pat Hengesbach [CFO of Garber], especially because I was so pregnant. But it wasn't a big deal at all. He made me feel completely secure and comfortable taking maternity leave during that time of transition."
Under Garber's ownership, Angela kept her role as office manager. Still, initial waves of guilt set in when she thought about taking maternity leave so soon after the baton was passed from Martin to Garber.
"I felt bad leaving my team with a new owner and a new General Manager [Mike Wenglikowski]," she said. "I was worried about it. But now I look back and it's so silly I even worried a little bit. Ty Mier [Controller at Garber] helped step in a ton to help with my duties to ensure a smooth transition."
She said Garber gave her peace of mind when she needed it most.
"They took care of everything for me," she said. "I could just go on maternity leave and everything was taken care of. I stepped out during such an important time, and everything ended up being just fine."
Now Angela has an easy way to remember how long she's been an official Garber team member.
"My son Brady – he is 3 and a half— is the same age as our anniversary of Garber taking over the dealership," she laughed.
One Call Away
Now with Garber, Angela said she has many more options and resources right at her fingertips.
"If I wanted to move out of state and work for a different Garber dealership, I could," she said.  "If I want to do something different, the door is open. Plus, all of the resources we have at Garber, thanks to Garber Management Group and their expertise in digital marketing and IT and HR…it's pretty nice to have that support."
Along with the resources available through Garber Management Group, Angela now has a network of colleagues that are a helpful support system.
"I often work with colleagues at other nearby dealerships in Midland and Saginaw," she explained. "It's nice to have that support and community because I didn't have that when I was at a single point location with Martin. It's nice to reach out now and say, 'Have you seen this? Have you experienced this? Who do you use as a vendor?' It makes it easier to see how others do it or different ways of doing things; they've been through it before and compare notes or come up with a better plan. There's strength in numbers."
Community is crucial for Garber. Our company loves to be involved and show support of the regions we serve. Because of the value we place on community, Angela participates in community events on Garber's behalf.
"I definitely do more for the community now, thanks to working for Garber," Angela explained. "We are encouraged to support our community. One of my favorite things we've done is when we supported our local elementary school reading competition. Our GM and I took pizza and cookies into the elementary school to surprise the winners; it was so great to see the excitement on kid's faces. It's neat to support our community and experience the excitement. It's fun."
With Garber's support and training, Angela has grown even more as a team member.
"Since I've worked for a single point location and then worked for Garber, I can tell you that the opportunities with Garber are endless," she said. "You can't go wrong with Garber."
Fast Five

First job? My first job was working at the golf course. I was a cart girl. I started one month before I started at the dealership. It was a very fun job.

First car? Grand Prix

Three things you can't live without? My family, friends, and summer time

Something people would be surprised to know about you? I have lived in Memphis and Chicago growing up. I'm from Saginaw but moved with my dad for his job. We always came back to Saginaw because that's where our heart is.

Best piece of advice you've received? I refer to it all the time. Wengo [General Manager Mike Wenglikowski] said it to me when I was overwhelmed and pregnant…he asked me, "How do you eat an elephant? One bite at a time. Everything will be fine." Any time there's something overly stressful, I just think of what he told me. He's right.