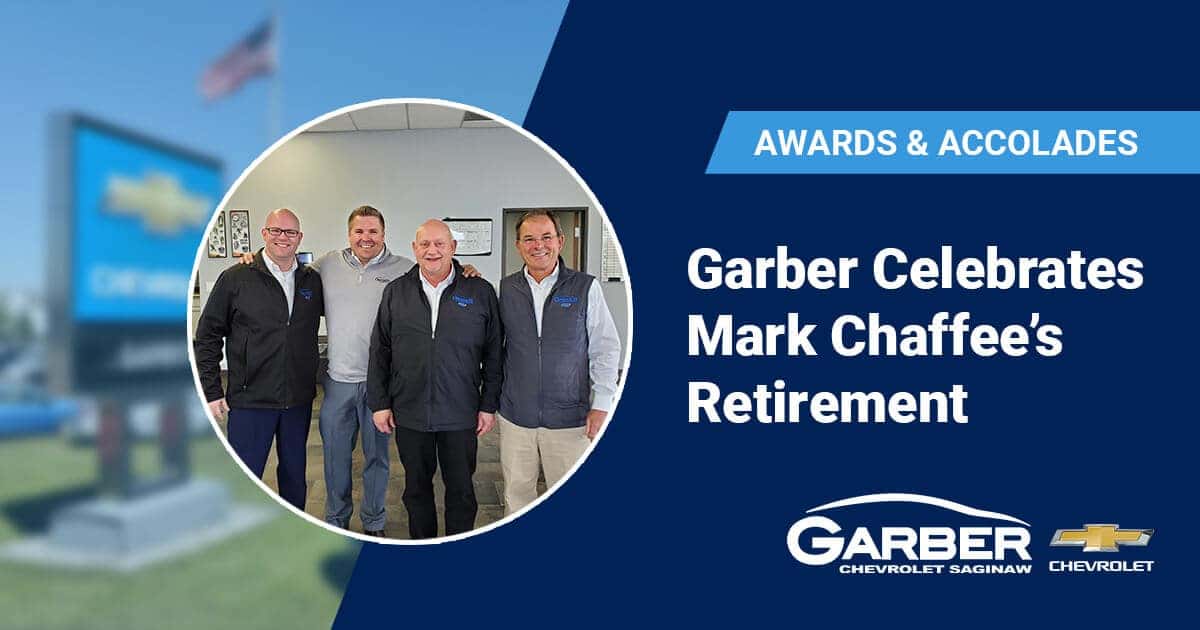 We'd like to send a heartfelt congratulations and best wishes to Mark Chaffee, sales associate at Garber Chevrolet Saginaw, as he celebrates his retirement this week.
"We are honored to have worked alongside Mark, and we wish him all the best in retirement," said the Garber Chevrolet Saginaw team. "We hope he enjoys the next chapter of his life and spending more time with his daughters!"
On April 27, the Garber Chevrolet Saginaw team celebrated Mark with a team luncheon.
This month is special for Mark, as April is the same month that he started in vehicle sales 36 years ago. Mark has spent his entire career at this Gratiot Road location.
We are honored and appreciative for his years of service with our company. 
"The camaraderie at Garber has been my favorite part of working here," Mark said. "Everybody works so well together and is so willing to help. I'm very appreciative for the support from Dick Garber, Wengo (Mike Wenglikowski), and Tony Warner. Thank you for the opportunities."
Just because Mark won't be coming into the dealership doesn't mean he won't be working, though.
"I live in Midland, so I'm going to be sticking around home and complete my honey-do list, which is pretty long," Mark laughed. "I will always be grateful to Garber. Thanks for the good times."
Thank you for your hard work on behalf of Garber, Mark! We wish you the best.